New Image Thyroid Testing and Treatment using Naturethroid and Cytomel
  Your Thyroid is your regulator of cellular metabolism and body heat. 
  Up to 1 in 4 Americans are hypothyroid and are unaware. 
Testing of Free T3 plus Free T4 and Antibodies in Everyone
Every patients gets tested for Free T3, Autoantibodies, and Free T4 in addition to TSH
More Than Just Synthroid
We use every FDA-approved Bio-Identical Therapy Including T3 (Cytomel), and Dessicated Thyroid
Temperature Optimization
You should just NEVER just "run cold". That is a Treatable Thyroid in Most Cases, Confirmed by Body Temperature Monitoring.

Thyroid Videos
Featuring New Image's
Physician Gregory Zengo, MD
Georgia's Headquarters for Bio-Identical Management of the Thyroid
We use Naturethroid, Armour, Cytomel, and the Most Accurate Testing to COMPLETELY Treat Your Thyroid while Restoring Your Metabolism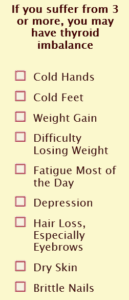 Modern diet and lifestyles all work against normal Thyroid function and regulation.  Around 25% of people have an under-performing Thyroid and most do not even know this is the cause of their symptoms due to most providers doing the wrong testing.
Stress affects thyroid hormone production
Prescription Medications impair conversion of prohormone T4 to the active hormone T3.
Processed Food Diets can lack Iodine, Selenium and Zinc required for optimal Thyroid function.
TSH-only testing is outdated and innaccurate (as our videos above explain).  Few providers look for autoantibodies which can cause symptoms that worsen over time even if the TSH is normal.
Even a slightly under-performing or under-treated Thyroid can result in the following symptoms:
Cold Intolerance: especially Cold Feet and Cold Fingertips
Sluggishness and Fatigue
Weight Gain
Eyebrow Hair Thinning
Brittle Nails
If you have these symptoms, even if you have been told your TSH is "normal", you should get a more detailed thyroid evaluation.  Do not suffer in silence for decades.
Dr. Zengo has over 20 years of experience evaluating and managing thyroid patients functionally.  Our in-depth testing used to diagnose and treat our patients enables us to prescribe the right dose of the right hormones (T3 and T4) and in the right ratio.  We test not only TSH diagnosis but also Free T3, Free T4, and important auto-antibody levels.  Sometimes, cases require following Reverse T3 test levels over time since Reverse T3 can block the thyroid receptor.  We also use body temperature in our management since it is an important window into thyroid function that bloodwork can miss.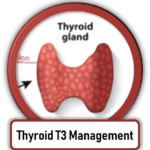 We include nutritional counseling as a final input to optimize your thyroid function. and as monotherapy in borderline cases where the patient may not need pharmaceutical therapy yet.  Every patient receives their own, personal, individualized approach.  We use all bio-identical FDA-approved replacement choices available, including NP, Armour, Cytomel (T3), NatureThroid, and even compounded thyroid along with levothyroxine (T4).
Simple thyroid replacement cases can be managed fully by New Image or we can work with your endocrinologist (a must in cases of thyroid cancer or thyroid masses) or primary care physician.  We check other important systems that can share symptoms with the thyroid.  This includes the adrenal (Cortisol, DHEA), gonadal (Estradiol, Progesterone, Testosterone), sleep cycle (Melatonin), neurotransmitter (Serotonin, Dopamine and more), and GI testing for "leaky gut" which help us to evaluate and treat the other stressors on your thyroid.  Sometimes, we can even manage mild hypothyroid cases with hormone balancing of other systems and supplements alone.
Why Choose New Image to Test and Manage Your Hypothyroidism?
Dr. Zengo has over 15 years' experience doing detailed thyroid function evaluation and treatment.  We are not afraid to properly restore your thyroid function to optimal, not "normal" levels.
At your first visit, we will order our full thyroid function panel.  This includes a Free T4, Free T3, Thyroid Peroxidase Antibodies, and sometimes a Reverse T3, in addition to the ever-present TSH.  Also at that time, we will discuss your history and symptoms in detail since most patients with low thyroid symptoms also have a bigger issue, Adrenal Fatigue, that also needs to be addressed.  This can be easily diagnosed or ruled out with a salivary hormone profile.  A patient who has both Hypothyroidism AND Adrenal Fatigue (roughly 2/3 of the hypothyroid patients we see) will not get fully better on thyroid hormone alone.  Anyone who tries to treat the thyroid without looking at the adrenal stress response as well is not considering all of the causes of your symptoms.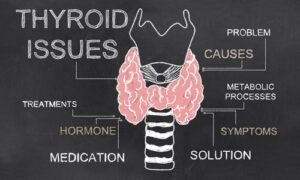 Moreover, we always include a discussion of nutritional, herbal, and vitamin treatments for borderline low thyroid conditions as well.  Dr. Zengo's extensive prior experience treating hypothyroid in pregnancy has made him a regional consultant for management of hypothyroid in pregnancy.  For patients who currently have a thyroid nodule, thyroid cancer, or overactive thyroid, we can manage you in conjunction with your own endocrinologist.
All office visits and thyroid bloodwork are billable to most private insurance.  We do not accept Medicare or Medicaid but offer affordable cash live and online visits.  We accept HSA cards as well and offer low cost cash visit rates and affordable online visits for patients without insurance or with high deductibles.
The New Image Difference
With over 20 years of experience in Georgia, Dr. Zengo and New Image are experts in every service we offer.  Whether it is Female Hormone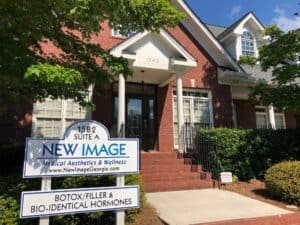 Balance for pre-menopause or cyclic symptoms, fixing the ravages of stress on your body clock as measured by adrenal cortisol levels throughout the day, testosterone in men, or thyroid balance in both sexes, our goal is to help you feel your best without drugs or any substances that are foreign to the body.  
Dr. Zengo founded New Image out of his OB/GYN practice back in 2001 and has expanded and focused our services on Bio-Identical diagnosis and treatment of stress hormone imbalances like no other medical practice can do.  Our promise to you is to never use expensive, proprietary supplements or testing.  Everything we sell is below list price and below the national average for an integrative medicine practice like ours.  Our goal is to always provide an honest assessment of your needs and formulate a treatment plan that is reasonable, and provides value in addition to results.
You know you are getting the most cutting edge care since everything offered at New Image is evidence-based.  Dr. Zengo teaches everything he practices and reviews the medical literature constantly to update our protocols while the training curriculum at PracticalCME Medical Training is updated at the same time.