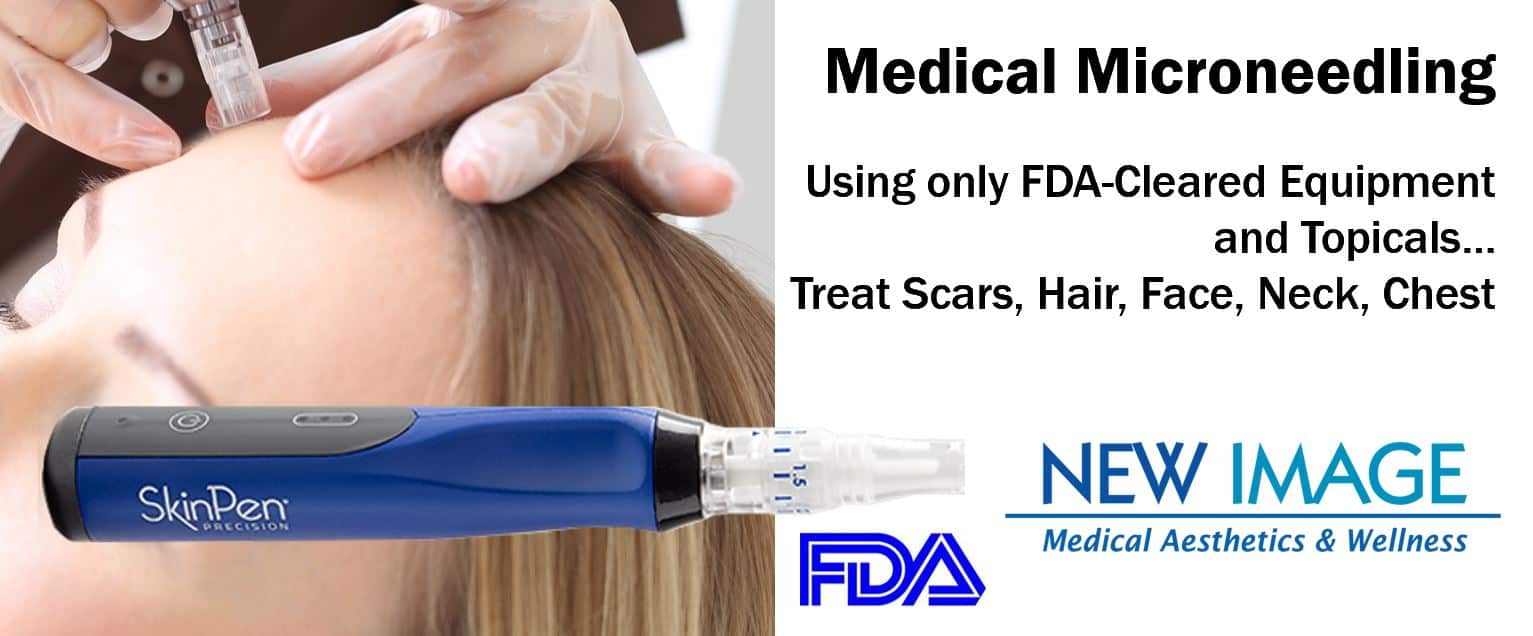 Medical Microneedling Performed Only by MD's
  Over 5 Years' Experience with Medical Microneedling.
  Effective for Acne Scars, Glow, Texture, Fine Lines and Pigment.
  All Treatments done with FDA-Cleared Motorized Skin Pen and Topicals.   
FDA-Cleared Medical Depth Microneedling
Stimulate Fibroblasts and Skin Repair to Reduce Effects of Aging
We Value Results and Your Comfort
High-Potency BLT Anesthetic Cream Used for Every Treatment
Combine with PRP for the PRP MicroFacial
Introduce Your Own Growth Factors from PRP Directly into Your Skin

Microneedling/PRP Video Library
Produced by New Image
Medical Director Gregory Zengo, MD
Georgia's Experienced Microneedling Physicians
Since 2014, New Image has offered professional medical microneedling using motorized needling devices.  Only around 9% of what we put on our skin actually gets absorbed because this skin is designed to be a barrier.  Microneedling makes tiny channels in the surface of the skin that allow for: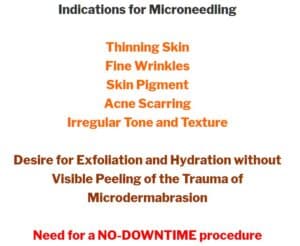 Up to 91% penetration of topical PRP, hyaluronic acid, and vitamin serums
Improved thickness and wrinkle-resistance of the epidermis (visible layer of skin)
Gentle exfoliation of the dead skin layer above without visible flaking and peeling.
Dr. Zengo will select the appropriate depth of needling depending on your needs.  Shallower for wrinkle reduction and treatment of pigment like melasma.  Slightly deeper for collagen remodeling and scar treatment.  Treatments are paired with our Hyalogic and SkinMedica line of products for continued treatment, or needle through your own blood-derived PRP for the ultimate infusion of growth factors.
Microneedling has come a long way since 2014.  Current state of the art is to use equipment that is FDA-Cleared and Registered as a Class 2 device.  Currently the only device that has that classification is the SkinPen (pictured below) which achieved that status in 2018.  This means that all other needling devices including over the counter stamps, rollers and pens sold online and through other vendors like Rodan + Fields do not have that full, legal FDA clearance.  This means that you are on the "honor system" with regard to quality and sterility.  Many products originate in China and may not even be clean, let alone sterile.  This is the ultimate "buyer beware" scenario.
Why Choose Microneedling from Dr. Zengo and New Image?
Dr. Zengo has authored the only CME-approved microneedling training course available to train providers all over the world in this new procedure.  That course has trained over 800 attendees in just 4 years.

We only use the latest and safest protocols.  This procedure cannot, and should not be performed by aestheticians.  They cannot legally go deeper than the epidermis layer.  Effective microneedling requires depths of 0.5mm to 1.0mm at a minimum, while the superficial epidermis is only around 0.3mm thick.
Finally, half of the benefits of needling are created by the needling technique and the quality of the home-care regimen afterwards.  All of our needling packages include a supply of Hyalogic Pure HA hyaluronic acid hydrator and Vitamin C for use while the needling channels remain open.  Other treatment serums can also be added to achieve a more dramatic effect.
Please contact us for a FREE initial consultation.  We will develop a program to help you achieve your goals combining medical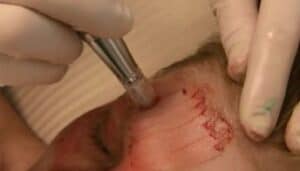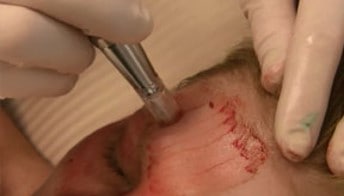 needling treatments and we will even teach you how to do needling at home to extend your benefits.  Most patients choose to do at least 4 needling treatments, and patients who want the most vigorous results should do one of their treatments with PRP.
Microneedling packages start at $199 for a single treatment with no products or $799 for a package of 4 treatments including the Hyalogic Pure PRP and Vitamin C powder.  Treatments take approximately 30 minutes including the application of the extra-strength Benzocaine-Lidocaine-Tetracaine anesthetic cream for your comfort.
The New Image Difference
With over 20 years of experience in Georgia, Dr. Zengo and New Image are experts in every service we offer.  Beginning in 2001, when Dr. Zengo introduced sclerotherapy and Botox(R) to Northeast Georgia, through 2019 with the introduction of PDO Threads, New Image has always remained on the cutting edge of the most rewarding treatments in aesthetic and wellness medicine.  Our aesthetic treatments complement our core wellness services nicely.  Whether it is Female Hormone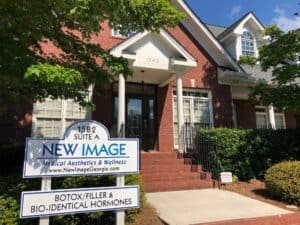 Balance for pre-menopause or cyclic symptoms, fixing the ravages of stress on your body clock as measured by adrenal cortisol levels throughout the day, testosterone in men, or thyroid balance in both sexes, our goal is to help you feel your best without drugs or any substances that are foreign to the body.  
Dr. Zengo founded New Image out of his OB/GYN practice back in 2001 and has expanded and focused our services on Bio-Identical diagnosis and treatment of stress hormone imbalances like no other medical practice can do.  Our promise to you is to never use expensive, proprietary supplements or testing.  Everything we sell is below list price and below the national average for an integrative medicine practice like ours.  Our goal is to always provide an honest assessment of your needs and formulate a treatment plan that is reasonable, and provides value in addition to results.
You know you are getting the most cutting edge care since everything offered at New Image is evidence-based.  Dr. Zengo teaches everything he practices and reviews the medical literature constantly to update our protocols while the training curriculum at PracticalCME Medical Training is updated at the same time.