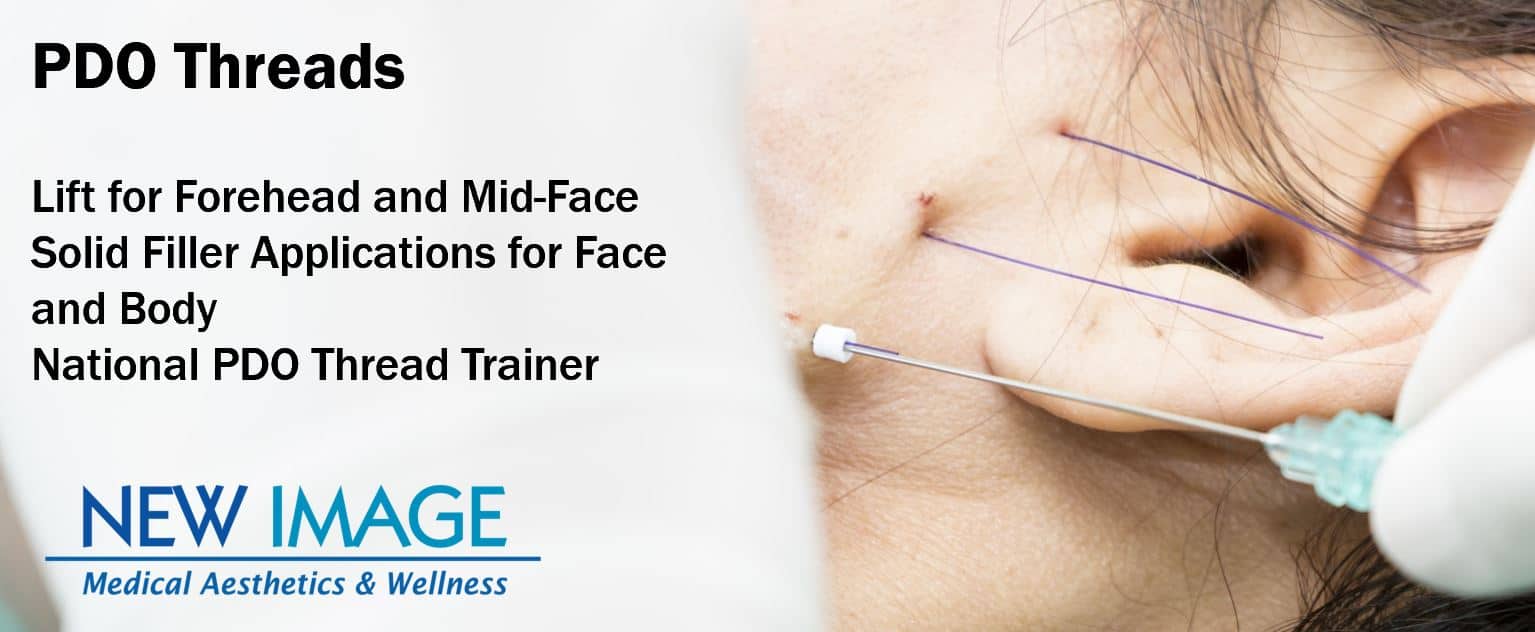 PDO Thread Lift (MINT Lift, Novathreads) and PDO Thread Solid Filler Volumization
  PDO is a non-scarring absorbable suture material used since 1981 in surgery, but only recently in aesthetics.
  Smooth threads can add volume to the lip/mouth area, sunken cheeks, and treat neck and body wrinkles. 
  Dr. Zengo is a National Trainer who wrote the first ever CME Training course in PDO Threads. 
Adds Lift and Volume to Face, Neck, or Body Areas
Reposition fallen fat in the Face, Neck and Body areas with molded MINT barbed threads.
Stimulates new Collagen alone or with PRP and Fillers
PDO has been proven to trigger measurable amounts of new collagen as it dissolves over months.
Both NovaThreads and MINT Thread treatments available
We offer the best FDA-Approved threads for lifting and volume in a variety of shapes and sizes.
Georgia's Experienced PDO Thread Treatment and Training Center
PDO Threads are one of the most exciting new treatments in aesthetic medicine.  Researched in Korea and FDA-cleared in the USA, this well-studied, absorbable monofilament material gives very predictable results with few side effects.  This has nothing in common with the Contour lift and Silhouette lift which use semi-permanent materials and have a much higher side effect profile.
There 2 main uses for PDO Threads in aesthetic medicine…
Barbed Threads are thicker threads that have directional barbs molded into the thread.  This allows for the directional lifting of fat or tissue on the face.  These threads are placed under local lidocaine in under an hour.  They maintain a directional lifting of the area for months and often can also leave behind some collagen structure along their path.  Side effects are minimal with infection reported in fewer than 1% of PDO cases and scarring reported in under 1%.  They are best used for …

Brow lifts
Jawline/Under Chin
Nasolabial folds
Marionette lines
Jowls
Body areas like Abdomen and Above the knee

Smooth Threads.  These are finer gauge PDO threads without barbs that function more as a "Solid Filler" or a "Mesh" that volumizes and/or supports an area of facial volume loss as they dissolve slowly over time.  They can be used in addition to hyaluronic acid dermal fillers and PRP which stimulates new tissue in multiple ways.  Because PDO threads last around 100 days, it is up to the patient how aggressively they want to turn back the clock on their aging.  We recommend treatments every 3-4 months depending on age or your goals.  And the best news is that smooth PDO threads around the mouth cost less than a syringe of Hyaluronic Acid dermal filler.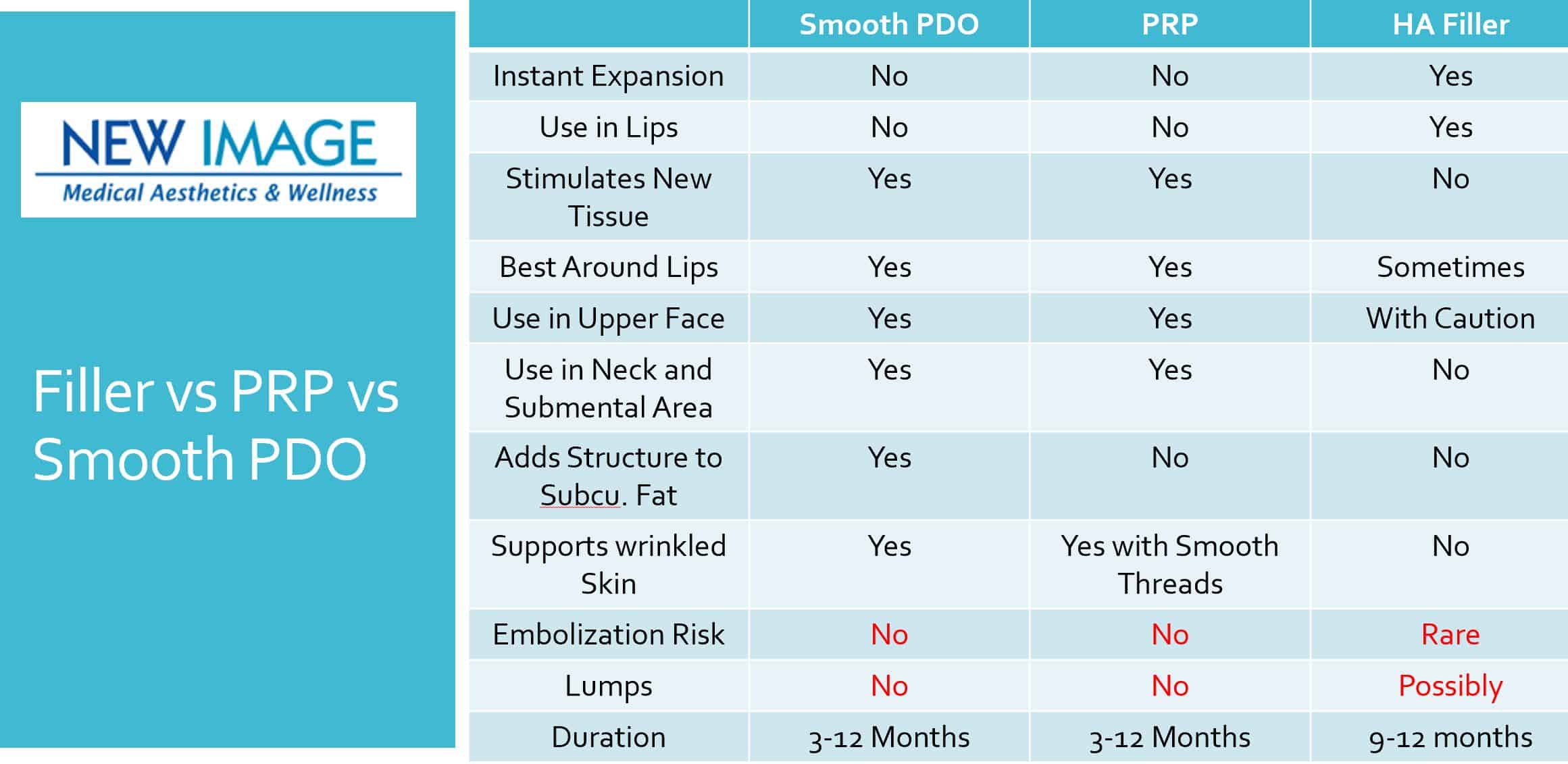 The MINT Lift and NovaThreads Treatment Difference at New Image
Dr. Zengo's extensive experience with facial fillers, PRP, and liposuction make him uniquely qualified to perform these PDO Thread procedures on the most qualified patients.
Dr. Zengo has authored one of the few CME-approved PDO Thread Training Courses for PracticalCME Medical Training and is involved with the training of physicians all over the world in PDO Thread Lift procedures.
We care about your comfort.  We use local anesthesia and extensive planning to make your PDO Thread lift experience comfortable and with the shortest recovery period.
We have some of the lowest per treatment pricing in the country and affordable package pricing for patients who want to mix PDO Threads with Dermal Fillers and Platelet-Rich Plasma (PRP).  Come in for a free consultation and see what we can do for you.
Introductory Special:  10 smooth threads (1-1.5 inches each) $299 when added on to any PRP or dermal filler treatment,  Molded Barbed PRP Threads (2 paired sets of threads per side): $899 (for 4 threads) or $1,099 for first 8 threads.  Additional sets of 4 barbed threads are $400 each.
Frequently Asked Questions about PDO Thread Lift and Volumization
Am I a good candidate?
With a procedure this new, it is hard to know without a live or online video consult.  We offer no charge consultations for all PDO Thread cases to answer your questions and help you determine if PDO Threads are right for you.
In general, barbed thread tissue repositioning requires a layer of fat for the threat to reside and enough fibrousness of the fat for the barbs to grab and hold on to.  As we age, those fibrous bands in our fat begin to disappear or get weak.  This means that as we age, a barbed thread treatment might not last as long in a 60 year-old or require more threads than in a 40 year-old.
How often will I need to get repeat treatments?
This depends on your goals and your age.
If you are younger and only want to slow down the clock of aging, then threads once a year can be enough.
If you are over 50 and are eager to turn back the clock on aging, then barbed threads every 4-6 months and smooth threads with PRP could be done every 3 months.  The great news is that you can never create an abnormal shape with PDO threads, so you can choose shorter time intervals without concern over safety.
What is the biggest drawback of the treatment?
The biggest unknown is how well will your gravitational fat pads stay repositioned after a treatment.  This depends on a number of factors but fibrous content of the fat is most important variable.  We really do not know the fibrous content of your fat until we actually do the procedure and watch you over the following months.
Smooth threads give a more predictable result although different people stimulate different amounts of tissue after smooth thread treatment.  Remember, smooth threads when used as "solid filler" are like fertilizer to the tissues.  Nobody knows how long fertilizer lasts or when it takes effect or ends.  We just know how often we probably need to do it.
For more on the history of PDO Threads check out http://www.pdothreadlifttraining.com.